BIOGRAPHY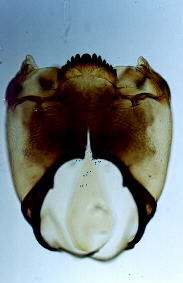 Glyptotendipes: Head capsule preserved in Holocene lake sediments from British Columbia, Canada.
Ian is a member of both the Biology, and the Earth, Environmental and Geographical Science departments at the University of British Columbia Okanagan. Originally a native of Miramichi in New Brunswick, he gradually drifted westward as a graduate student before joining the Okanagan University College faculty in 1991, and accepting a position at UBC's Okanagan Campus in 2005.
At UBC, Ian is responsible for a variety of courses, including especially those pertaining to freshwater ecology for the Freshwater Science and Biology (B.Sc.) Degree programmes. He teaches Quaternary Palaeoecology for the Geography, and Earth & Environmental Science programmes. Ian has held Guest Professorships at the Geobotanical Institute, University of Bern, Switzerland, and the Department of Physical Geography & Quaternary Geology at Stockholm University. He has supervised or co-supervised graduate students (formally or informally) at Simon Fraser University and Université Laval, as well as University of British Columbia.
Ian was one of the founding directors of the British Columbia Lake Stewardship Society. He is a former member of NSERC's Environmental Earth Sciences Committee, and serves on the Advisory Board for the Journal of Paleolimnology.
His research interests pertain especially to limnology, palaeoecology, freshwater mussels, and the biology of one family of freshwater insects, the Chironomidae. He is developing the Chironomidae as quantitative indicators of past environmental change. These environmental changes include lake eutrophication, climatic change, and past changes in lakewater salinity.

When Ian is not in the classroom or lab, he may be canoeing, hiking, fiddleheading, cross-country skiing, listening to CBC radio, or taking a quiet walk with friends, family, and his camera.
He is almost entirely unrelated to Farley Mowat...
CONTACT INFORMATION
Dr. Ian R. Walker
Fipke Bldg, Room 339
Biology, and Earth, Environmental & Geographic Sciences
University of British Columbia - Okanagan
3333 University Way
Kelowna, British Columbia
CANADA V1V 1V7

(49° 56' 26.6" N, 119° 23' 47.5" W)

Office: (250) 807-9559
Lab: (250) 807-9294
Fax: (250) 807-8004




skype: chironomidge

Lab WWW: http://www.PALEOLAB.ca